Today I am sharing picnic essentials for a romantic or family outing, like picnic basket/bag options, picnic food ideas, ways to find beautiful places to picnic near you and some fun games/activities once your bellies are full. Enjoy!
With warm weather comes my unusual devotion to being outside. I prefer to be inside my home, but when I do go out, I love to be able to make a day of it. Since I have little ones that still nap, I have to maximize our awake time, so we often take a picnic lunch with us.
Although some of the picnic basket options below are more for a couple's picnic date, there are plenty of options that would make a picnic easy and super stylish for a family too.
My favorite part about these kits is that everything in the baskets can be ready every time you want to go out, instead of feeling overwhelmed by the time it takes to gather all the essential gear and tools on top of actually preparing the food part of the picnic. Save time and have more fun with the sources below.
This page contains affiliate links for your convenience (which means if you make a purchase after clicking a link I will earn a small commission which helps keep my blog up and running but won't cost you a penny more)! Click here to read my full disclosure policy.
This one is sleek and I don't think there are any men that would be ashamed to pack this around, especially if the result was impressing a date.

I love the traditional basket look. This is compact and ready to go.
You have to fill this basket, but it screams traditional picnic and it could be really fun to curate the pieces by shopping around.
This is the big mamma of picnic baskets. A family of four could truly feast with this basket that includes the blanket, a meat and cheese board and the perfect storage for the rest of the pieces.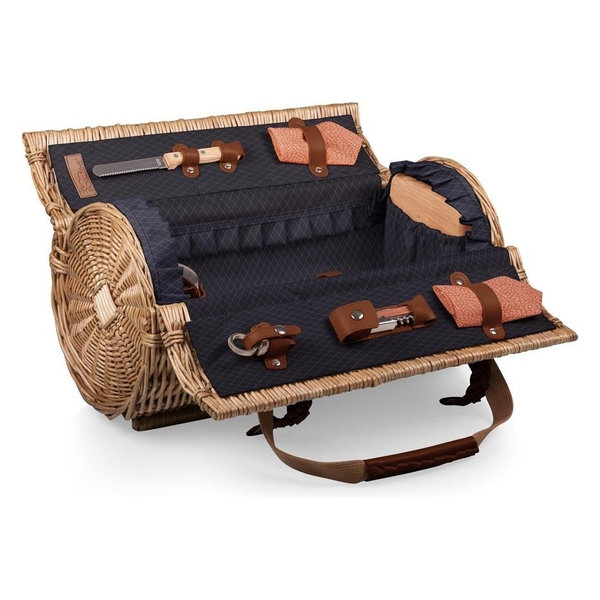 Add the plates, cups and utensils and you are ready to rock this cute barrel style picnic basket.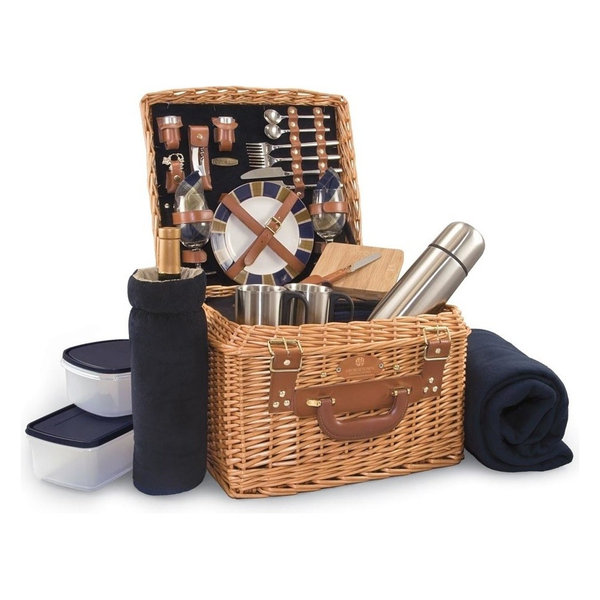 Here is a more deluxe two person picnic basket that includes the blanket a wine cooler, small cheese board and some plastic food storage.
Hearth and Hand Picnic Basket
Hearth and Hand's picnic blanket is super cute, portable and rugged.
Here is the Hearth and Hand portable beverage mug.
Black Matte Flatware to add to the basket
Super cute plates for the basket
Mini picnic basket for the littles!
Heart shaped picnic basket filled with the essentials. 
Click picture to see details of what is included.
Collapsible cooler for any outdoor adventure, and check out the cheerful colors and patterns!
Once you have your picnic basket or bag,
You need some yummy food. Here are some ideas:
Croissants
Wraps
Meat and Cheese Assortment
Bread, olive oil and seasoning
Sandwiches
Fried Chicken
Fruit Salad: We always just cut up fresh fruit and add in a bowl by itself or with a container of Greek Honey Yogurt.
Carrots
Chips
Water
a beautiful place to go. Check out these online finders:
and some fun games to play with your date or group. Here is a good list, many of which I have delightfully played at a picnic:
Balloon volleyball
Softball
Kickball
Water balloon fight/water games
Relay race
Frisbee
Obstacle Course
Tug of War
Tag
I hope you are enjoy summer with your family and friends. I hope you spend lots of time outdoors enjoying the beauty of our incredible world.
Best,
Lucy Jo